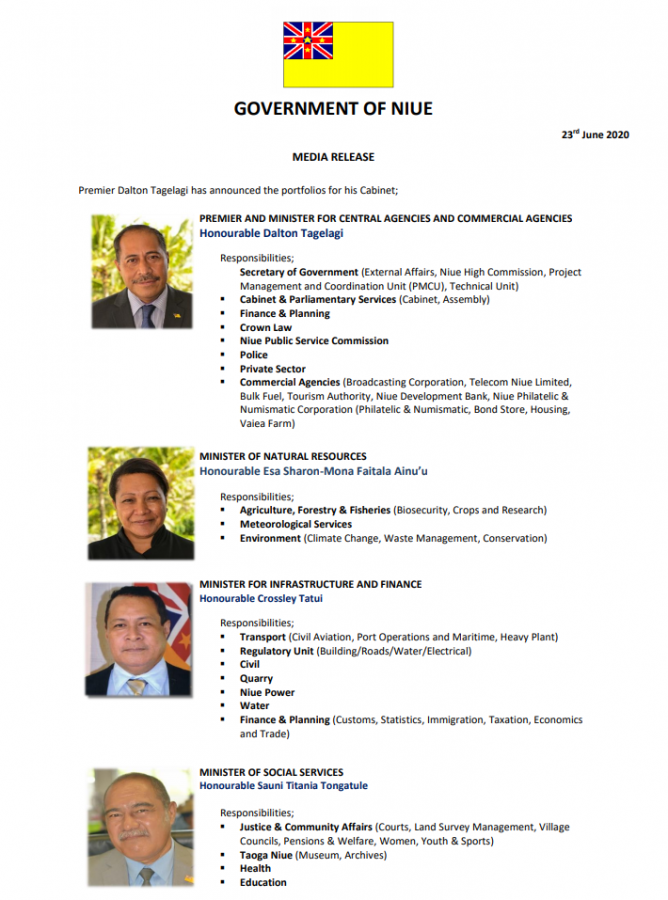 Following an official media release by the Government of Niue on 23rd June 2020, here we see the composition of Niue's Cabinet Ministers for the next 3 years.
Premier Dalton Tagelagi is responsible for the following portfolios: Central Agencies and Commercial Agencies;
Honourable Esa Sharon-Mona Faitala Ainu'u: Minister for Ministry of Natural Resources;
Honourable Crossley Tatui: Minister for Ministry of Infrastructure and Finance;
Honourable Sauni Titania Tongatule: Minister for Ministry of Social Services.
The Department of Environment has had the great privilege of working with all members of Cabinet in previous years as Former Minister and MAM as well as Former Directors of Community Affairs and until recently, Former Director of Environment and we would like to wish them well in their respective portfolios for the next 3 years.
Kia monuina e lakaaga foou mo e tau gahua mae tau Ikipule he Kapeneta, Fakatufono ha Niue.